I Wish You Were Selfish
9/11 Tribute to Kenneth Grouzalis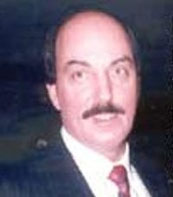 Kenneth Grouzalis, 56, Lyndhurst, N.J.

Killed 9/11/01- WTC


I could find no more fitting tribute and no better words to reflect the sense of heroism, love and loss of a 9/11 victim as this.


A Note From A Widow:



Dear Ken - I just want you to know how often I think about you. Life hasn't been the same for Lisa and me since you are gone. I know that because you were such a kind person is the reason you are not with us. Because you stayed and helped with the evacuation of the buildings is the reason you perished. I often you wish that you were selfish and thought of your own safety because then you would still be alive. Lisa's wedding was the hardest thing - not having you to give her away was catastrophic. Mike substituted for you, but it wasn't the same. Just wanted you to know how much we love & miss you.

- Love Always - your devoted wife - Fran



by Frances Grouzalis on 2004-06-09
Take the "2996" tour- honoring the 9/11 victims.
Social bookmark this

Powered for